Your historic building is safe in our caring, capable hands.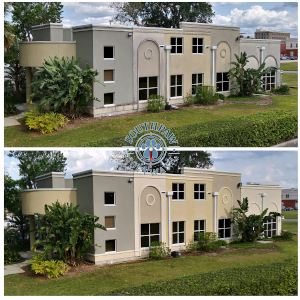 The Charleston, South Carolina area is known for the many historic buildings we're fortunate to have, but if you own one, you may have run into a unique problem – how to clean the exterior surfaces like the siding and roofing. Historic buildings obviously need to be preserved, which means that traditional exterior cleaning methods like pressure washing aren't an option. These cleaning techniques use high-force jets of water that can seriously damage a historic building, so you'll need a company that provides an alternative method to handle your historical building washing needs. That's where our team at Southpaw Softwash comes in.
We use a method called soft washing, which is gentle enough to use on the delicate surfaces you often find on historic buildings. Our team will gently lift away the grime from your historic building using a uniquely formulated blend of specialty cleaning solutions, leaving things clean without causing any damage. With our help, you can get rid of the contaminants that mar the surface of your historic building, including mold, algae, bacteria, insect nests, moss, and more.
Our team goes above and beyond to provide historical building washing services that will protect and preserve your property. We only use water at a pressure of 60 pounds per square inch (PSI), which is low even by soft washing standards. For comparison, 60 PSI is about the same level of force that a garden hose without a pressurizing nozzle would produce. We're also committed to earning your complete satisfaction, and if you're ever dissatisfied with our services, we'll come back and make it right.
Don't trust your historic building to just anyone — contact our team today to learn more about our historical building washing services or sign up for a semi-annual maintenance contract to keep your building looking great all year long without any effort on your part.