Book a service with us and see why soft washing is the ideal commercial building washing method.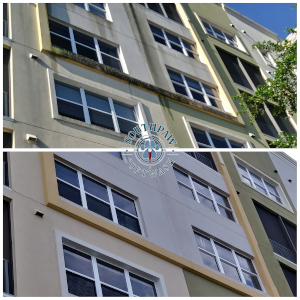 When people pull up to your commercial building, there are a number of factors that impact their first impression. Having well-maintained landscaping is important, as is having effective and clearly understandable signage telling them where to go. Another major factor in how people perceive your business is the condition of the exterior surfaces, like the siding, windows, and roof.
At Southpaw Softwash, we provide professional commercial building washing services for businesses in and around the Charleston, South Carolina area that will help you make a stellar first impression and continue making that same great impression every time people visit your facilities.
We use a unique commercial building washing technique called soft washing, which is a safe alternative to traditional power washing services. Our team can provide results that last four to six times longer than what you'd get with power washing companies, all while using a fraction of the water and without the risk of harming more fragile materials like windows and siding. We achieve this thanks to the innovative blend of specialty cleaning solutions we use, which are not only effective, but also eco-friendly.
The water-based, biodegradable cleaners we use will emulsify the dirt, algae, mold, bacteria, insect nests, and other grime that coats your building's exterior. Not only does it lift everything away without the need for brute force, but it also sanitizes the surfaces so that organic contaminants like mold, algae, and bacteria won't regrow as quickly.
We want to make it easy to keep your building clean and presentable, so we also conveniently provide semi-annual commercial building washing services for those who want to book a service and never have to think about it again. All you need to do is call and get on our routine maintenance schedule, and we'll show up like clockwork to perform your semi-annual cleaning. Contact our office today to learn more or inquire about our maintenance contracts.
Similar Services We Offer: