Our concrete washing experts have the right experience to deliver the outstanding results you deserve.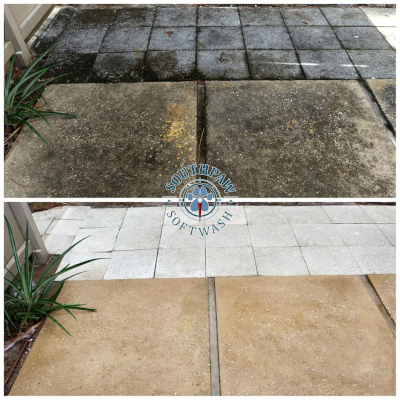 In our experience here at Southpaw Softwash, many people have the idea that because concrete is such a strong and durable material, it doesn't require maintenance. We are here to tell you this is not true, as concrete will wear out over time just like anything else. Fortunately, we offer thorough concrete washing services to help you keep your concrete in excellent condition in the long term.
Some of the main sources of damage to concrete are abrasion from dirt particles and wear from harmful organisms such as mold, mildew, or algae. Our team's concrete washing services are designed to address both.
We use a technique called soft washing, which involves first treating the concrete with a specialized cleaning solution to kill any organic growth (the harmful organisms we listed previously) and to loosen up the dirt and grime so they will be easier to remove. Then, once the solution has done it's job, we spray the concrete with a light, gentle stream of water to wash away all the grime and other stains. This prevents the dirt particles from abrading the surface and prevents any contaminants from eating away at the material. If you have questions about soft washing, do not hesitate to give our team a call to get the answers you are looking for.
We are proud to serve the Charleston, South Carolina area, and we want to help you take care of your concrete structures. If you need concrete washing services, just give us a call.