Safely restore your roof back to its original beauty.
Save money and make your roof look its best! With soft washing, you can safely restore your roof back to its original beauty and save on a costly replacement.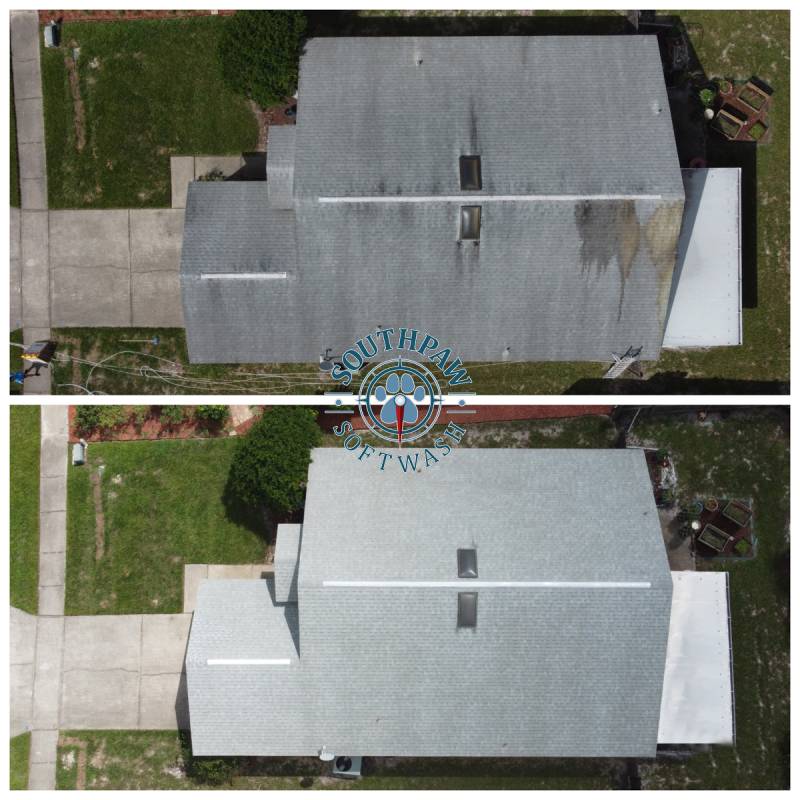 What causes those black streaks to show up on your roof in the first place? Those brown or black streaks seen on roofs throughout the Charleston, South Carolina are often mistaken for dirt, but they are actually a type of algae known as Gloeocapsa Magma. These algae will collect on your roof, where they feed and grow over time, and this leads to unsightly streaks. By nature, algae are a decomposer and will damage your roof over time.
For many homeowners, pressure washing was the go-to solution to remove algae, but the black streaks eventually return. This happens because the root of the problem wasn't being fixed. If your home's roof has looked better and you want to remove the buildup growing on top of it, our roof washing solutions are the way to go.

By choosing us at Southpaw Softwash for roof washing, you're choosing a process that will totally clean your roof and eradicate stain-causing microorganisms. Our roof washing solutions last four to six times longer than standard power washing, and you won't have to worry about algae regrowth once we're done.
Make our roof washing solutions your choice when you want to make your roof in Charleston, South Carolina look like new. To find out more about our processes or to get a quote to clean your roof, contact us today.
Greenway Before and After