Let us clean your roof with a gentler process and better results.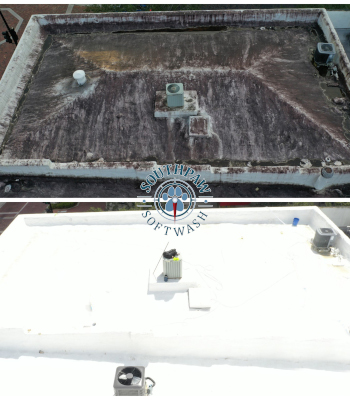 A dirty roof is about more than the appearance of your home or building. While black streaks and buildup on your roof are obviously unsightly, they also can also be damaging to your roofing materials. To preserve the longevity of your roof, turn to our team at Southpaw Softwash for professional roof cleaning. We know the right steps to take to clean your roof thoroughly and prevent it from becoming contaminated afterward.
While some people turn to pressure or power washing as their roof cleaning method, we know better. Traditional pressure washing is far too harsh for delicate roofing materials, and it can do more harm than good. Plus, pressure washing doesn't address the root of the problem: stain-causing microorganisms like algae, mold, and mildew.
Our team can address both of these shortcomings with soft washing. This gentle method won't damage your roof because the highest pressure our system uses is 60 PSI. In addition, we'll thoroughly treat the cause of your roof's stains and streaks with water-based, biodegradable chemicals that will kill any algae, mold, mildew, or bacteria on the surface.
Because our roof cleaning method focuses on sanitizing your roof rather than just washing away dirt and grime, the results will last 4 to 6 times longer than pressure washing. SoftWash Systems and Southpaw Softwash offer a five-year limited warranty against the regrowth of black microbials on asphalt shingle roofs. Soft washing also uses less water, so you can protect your roof and the environment at the same time.
Our roof cleaning processes and chemicals are effective on almost any roof surface – asphalt shingle, metal, barrel tile, cedar shake, TPO, and more.

Lastly, we are fully insured with a $2,000,000 liability policy and workman's comp insurance to protect your interests and our workers. As well, our technicians are fully trained in SoftWash Systems' 30-year proven methods of protecting your building, property, and vegetation, as well as themselves, during any of our cleaning processes.
If you are interested in roof cleaning for your Charleston, South Carolina property, contact our team today for answers to your questions and a custom quote.
Similar Services We Offer: