Keep your office in top condition with our exterior office cleaning services.
It's important to keep your office's exterior just as impressive and presentable as the company that works inside. When your office has accumulated enough dirt, grime, and other contaminants on the exterior to make it appear aged and discolored, it also starts to lose its appeal and can give a poor first impression to visitors and potential clients. If you are in the Charleston, South Carolina area, we at Southpaw Softwash are happy to offer our exterior office cleaning services to help you keep your office building clean.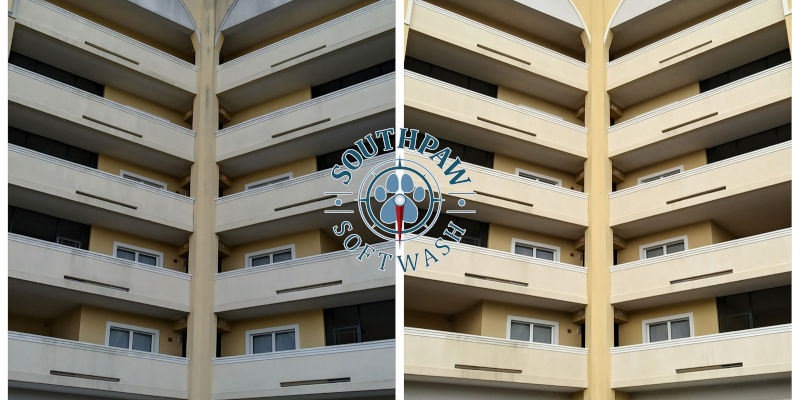 With our exterior office cleaning services, we work hard to provide the best possible results for the exterior of your building. That's why we use soft washing to clean any exterior surfaces. Unlike standard pressure washing services, soft washing utilizes very little pressure and is safe enough to clean any surface. In fact, we take the water pressure even lower than many other companies by using pressure as low as 60 PSI. That way, we can ensure that we never cause any damage from high water pressure. We combine the low water pressure with a specialized cleaning solution that loosens and eliminates any dirt, grime, mold, mildew, algae, and bacteria on the exterior of your office building.
You can trust us to deliver the best possible results every time with our exterior office cleaning services. We can make your building look new again. You'll also be happy to know that the cleanliness will last four to six times longer than the results basic pressure washing can provide. Your newly cleaned building will be sure to impress any client or visitor. Give us a call to schedule our exterior office washing services today.
Similar Services We Offer: