We offer thorough patio washing services to keep your patio in excellent condition.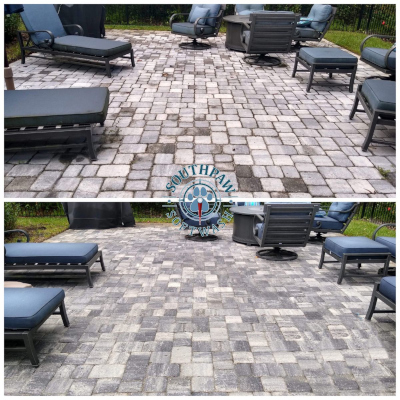 At Southpaw Softwash, we want to help you keep your outdoor living areas in great condition. Although outdoor structures like porches and patios are designed to hold up to the elements, they still require some care and maintenance in order to remain in good condition. For example, you will need to clean your patio regularly to prevent unnecessary wear and tear. To get the best results, we recommend using our professional patio washing services.
While many people prefer to use pressure washing equipment to clean their patios, we prefer to use soft washing methods instead. Soft washing can be used for a wide variety of applications, including patio washing, and it produces more thorough and long-lasting results. The reason for this is the specialized, biodegradable cleaning solution we apply to your patio—it is formulated to loosen dirt particles and to kill organic growth such as mold, mildew, algae, or bacteria. Organisms like that are often the main cause of dirt buildup and staining on your patio's surface, so getting rid of them will get your patio cleaner and keep it that way longer than other methods could. Once the solution has done its job, our technicians will spray down your patio with a light stream of water to wash all the grime away.
Our team is proud to serve the Charleston, South Carolina community, and we want to help you keep your patio in great shape. If you are interested in our patio washing services, just give us a call.