Allow us to clean your historical building without risking any damage.
Historical buildings have a natural charm, but that charm can quickly be covered up with a basic buildup of dirt and grime, along with discoloration from such buildup. You might be hesitant to hire the necessary cleaning services for your historical building for fear of damaging the delicate materials. When you rely on us at Southpaw Softwash, you don't have to worry about any of that for your Charleston, South Carolina property. We can offer historical building cleaning services that will keep the exterior of your building entirely unharmed yet pristine.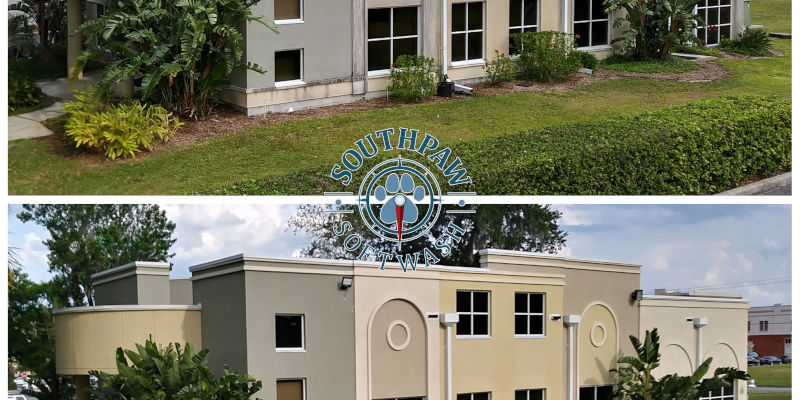 We understand that historical buildings have more fragile building materials that can be easily damaged by unskilled cleaning companies. We pay close attention to details with our historical building cleaning services and make sure to leave your building unblemished and unharmed from harsh chemicals or damaging levels of water pressure. We use soft washing, which relies on a specialized cleaning solution paired with very low water pressure. In fact, using pressure as low as 60 PSI, we keep the pressure lower than most soft wash companies to ensure the safest results and less water waste.
You can also trust that the specialized cleaning solutions we use for our historical building cleaning services are perfectly safe for any building material. Our solutions will loosen and eliminate any dirt, grime, mold, mildew, algae, or bacteria from any exterior surface of your building. You'll also notice that the building will stay clean four to six times longer than pressure washing. Our services are gentle yet effective enough for all exterior surfaces, including siding, roofing, walkways, decks, porches, patios, and more.
Allow us to clean the exterior of your historical building without risking any damage to the surface. Give us a call to schedule our historical building cleaning services today. Be sure to ask about our semi-annual maintenance and cleaning services.